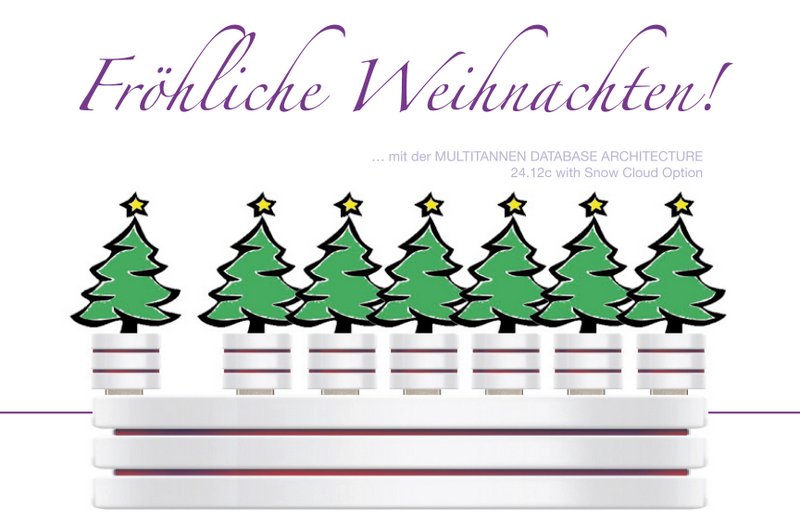 The Multitannen (eng. Multi Firs) Database
Over the last years it became more and more obvious that one single fir is not sufficient as a Christmas tree anymore. Not only that the ornaments overexerted a single fir and decreased the performance by that, also that the presents did no longer fit under the tree and the free storage space suddenly became an actual bottleneck. A second fir in the backyard hardly solved the problem as these were harmed by the freeze leading to repeating connection drop outs. Additionaly the administration was very inconvinient: Changing from the cozy slippers to the boots to do a proper tree health check turned out to be a great challenge for which certain expertise was required.
But with the December version (12.1.0.24) we now have the Multitannen Option with Database. As in the past each Christmas Tree had to have its own rack, now up to 52 trees can be plugged into one single database. This is a huge advantage as there is larger space for the Christmas presents and the administration and monitoring becomes much simpler. The central database provides water for all trees and one central power outlet is sufficient for all fairy lights.
But exactly this is the current issue: central management can become a dilemma. There are hardly any resource limitations for the single tree, means if one tree is using up the all water, the cache for the other trees will suffer and this can lead into dry outs and total failures. But nevertheless the advantages are prevailing because also the backup (disposal as waste) becomes much more easy: you can either throw away all trees at once or one single fir seperately.
At the end there is still one drop of bitterness: the Multitannen Database is only available as a chargeable add-on for the Caucasian fir. Unfortunately the much cheaper default fir can only be used in the conventional way or in a single tree database. It is questioning if your children are fine with this.
*** Merry Christmas ***