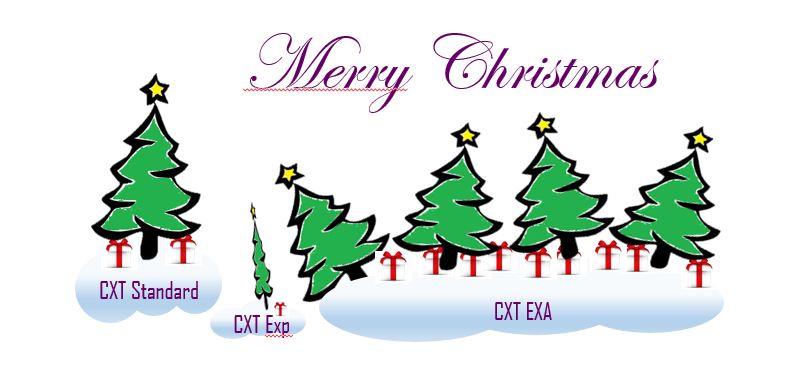 Christmas 12.2 (=24)
To sweeten your this years christmas we decided to release the new christmas features only to the Christmas As A Service (see also Christmas 2015) this time. By this we'd again like to take the heat off you when it comes to purchasing the right christmas tree. You simply give us your presents and we then arrange those under your christmas tree.
From our extensive, very inexpensive choice, we offer three different Cloud christmas trees (CXT):
CXT Express
For the really hurried ones we prepared a Multitannen (Multifirs) Database. Please note, that this service is not suitable for large presents due to fast setup and removal. Additionally we can not fully ensure an availability on December 24th, but the children certainly have fun unwrapping the presents only on December 27th – This just prolongs the anticipation!
CTX Standard
On level 2 you get a full set of the Multifirs Database, which you can conveniently assamble in the Cloud. By this there are no limits in number and size of the presents. No matter if a Bobbycar or a dog, you upload all your favorit presents to the Cloud. On December 24th, or December 26th latest, your beloved ones can download them.
CTX EXA
On the highest and most beautiful level, you get a guarantee to have your presents available on December 24th. Yet we kindly ask you to buy all presents twice, only then we can ensure to save all presents in case of the tree burning down. In addition with this option you can choose yourself, what music is to be played. In both of the other versions we reserve the the right of the choosing the tracks. But you can be sure to have christmas songs among that.
We setup all trees with one single candle by default, that create a slight blue light. By that the light in the eyes of big and small shines in great harmony with the Cloud. For a small extra fee you can order additional candles in different colors. We would like to point out that the download speed (speed of Santa Clause and especially Rudolph) can vary, depending on where you are. So it would be helpful, if you stood on the roof of your house. Besides the fast download by this you have a great view into the cloud. As a special service we offer to let several stars shine in the sky for you free of charge. An unforgettable experience for old and young.
*) Addition
Unfortunately due to the complexity of our christmas trees, the additional candles are only available by March 2nd 2017. Of course, you can order some on christmas already, so you can gaze the fabulous christmas tree with many colorful candles once again at ester.
*** Merry Christmas ***